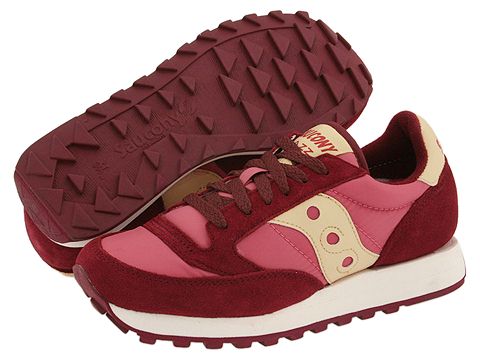 see? now i HAVE actual ruby sneakers. i had a red pair of the same style, but they are fire engine red and that just wasn't quite right.
I LOVE SAUCONY! THEIR SNEAKERS ARE LIKE WEARING CUTE PILLOWS ON MY FEET! YAY!
one thing i think about a lot (because i am strange) is that it would suck to run out of sneakers in a post-apocalyptic world. wrapping rags around your feet is an entirely unsatisfactory replacement for the cushiony goodness of a great pair of sneakers.
for that reason, and that reason almost exclusively, i stand firm for the status quo. don't rock the boat, people. i mean, i will stand steady because my sauconys have great grip and provide a solid foundation for my feet on whatever surface i happen to be standing... BUT i don't want to disturb any of the economic and social structures that allow me to easily purchase colorful, vaguely retro sneakers, alright?
it is unpleasant to realize that you would sell many of your abstract freedoms for comfortable feet.
this blog took a surprisingly dark turn.